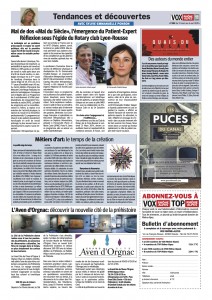 Bonjour à tous et à toutes,
Un article de presse va sortir demain en kiosque, je vous le mets en ligne.
Bonne lecture
Cordialement
Sylvie
••••••••••••••••••••••••••••••••••••••••••••••••••••••••••••••••••••••••••••••••••••••••••••••••••••••••••••••••••••••••••
Hello one and all, An article will come out on newsstands tomorrow, I'll put it online. Happy reading cordially Sylvie

Translation of the article
 » Backache  » Evil of the Century » , the emergence of the Patient -Expert Reflection under the auspices of the Rotary Club Croix-Rousse Lyon
Low back pain is a problem major health concern and public , it is the first due to work stoppage and the first cause of occupational disease. When it becomes chronic , the impact economic importance . the likelihood of return to work is less than 50% after one year of judgment work and zero after two years stop ongoing work . LBP column is the 3rd leading cause chronic disability in age 45 to 64 age group and First disability before age 45 cause. Centre of Medical and Surgical French Red Cross clubs , the CLBP patients are integrated into a program re- training multidisciplinary effort functional restoration spine ( RTS). the purpose program is repackaging effort , recovery and maintenance of physical activity, return to work and rehabilitation professional . This program is reserved for patients heavily disabilities in work stoppage extended , usually with a psycho- social impact important. Therapeutic patient education arrived in France with the HPST law ( Hospital, patient , health, territory ) in July 2009. it should allow patients to acquire and retain capacity and skills that help them optimally live their lives with their illness. The profession is humanized . in the Department of Physical Medicine and Rehabilitation Dr Emmanuelle Chaléat – Valayer a program Therapeutic Education appointed RecET ( Re- training effort , Coping, patient education , Work) was introduced in ARS (Regional Health Agency ) for authorization. Innovation in this program is the presence of an expert patient Sylvie Bouchard, young woman Lyon , herself a victim of an accident. This unfortunate experience helped to get to know , especially given able to intervene knowingly with patients . Volunteer with the Red Cross French and specialized therapeutic education, she obtained a university diploma , prepared the Université Pierre et Marie Curie (UPMC) Paris VI . in this program it will conduct a workshop therapy .
To determine whether the addition of a expert patient in a team multidisciplinary is beneficial for patients, a study project clinic is in the pole IMER HCL with the collaboration of Professor Colin and Dr. Sandrine Touzet. A choice between commitment and indifference … A conference was held at the Club Rotary Cross Red Friday March 21, 2014, before a audience and provided representative numerous sectors. At the end, a avalanche of queries issued of the participants, between other than awareness their responsibility to others. Dr. Emmanuelle Chaléat-Valayer answered patiently while with a smile, posted its fierce desire to appoint expert patients. Meanwhile, the club thinks and plans to invest in this innovative project to to get things done. we live in a changing world quickly, the role of the expert patient must find its place. «